Ed. – This is a special post for today, March 22, 2012 – World Water Day. World Water Day was initiated in 1993 under the United Nations in response to a growing need for the proper management and conservation of the world's water resources. We'd like to take a moment to reflect on this year's theme for World Water Day, "Water and Food Security." There is a strong, yet delicate link between accessible, drinkable water and the ability of a region to maintain a steady food supply. You can learn more about this year's World Water Day on the UN's official WWD page.
There are many causes of world hunger, some of which are obvious, some very complex – some are natural, others are man-made. But one often-overlooked cause of hunger worldwide is tied to an even larger problem of finite natural resources. What is this factor that causes hungry people?
Thirsty plants.

At first glance the link between the two may not be entirely obvious. But the lack of ample clean, sustainable water for irrigation is a very real concern in our world, and one that we here in the west tend not to think of very often.
Consider this:
According to the The World Food Programme, drought is now the single most common cause of food shortages. Drought is exacerbated by natural factors like global warming and natural disasters, but it is also often caused by poor agricultural infrastructure: unreliable water supplies, poorly-designed irrigation, and a lack of clean water storage and conservation programs all make water a precious and unnecessarily rare commodity in many of the poorer and less-developed regions of the world. Source
Without plenty of water, the agricultural food supplies of the world dwindle. Bad management, water waste, and misuse of existing resources all contribute to this problem. Many regions of the world have already been pushed beyond their peak water capability; despite our Earth being covered in water, very little of it is currently usable in agriculture, and have no doubts about it, we are steadily depleting our aquifers and reserves.
Ultimately, almost 1 in 6 people in the world are hungry.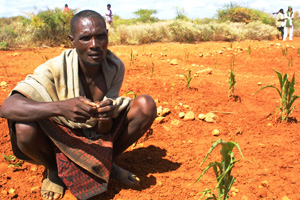 But it's not just lives in third world countries that are at stake: included among the world's hungry are almost 14.5% of American households. Over 17 million U.S. households are considered "food insecure" and almost 7 million of those show "very low" food security (2010 statistics).
One way to alleviate the pressures of hunger in our country and others is to improve the management and implementation of our water conservation efforts. The goal is ultimately to ensure healthy watershed ecosystems, first at home, and then abroad.
At Trade Winds Imports, we advocate the adoption of water-saving practices as well as further research into sustainable water practices. In our home state of California, this may mean advocating local crops that are not so water-reliant; low-value crops that consume lots of water accounted for over 60% of California's agricultural water use in 2005. These include alfalfa, rice, and cotton, which only generated 14% of statewide crop revenues. Source
But you can help, too! We ask you to please be mindful of your water consumption. How long do you stand in the shower every day? How much water do you spill down the drain while brushing your teeth, cleaning your hands, or washing your dishes? What is the environmental cost of your beautifully maintained lawn, and do you really need so much grass in your front yard?
There are thousands of ways you can help curb our growing water crisis both at home and abroad. For a great starting point, WaterUseItWisely.com lists 100 ways to conserve water.
Please join us today, World Water Day, and every other day in doing our part to mind our natural resources and help fight drought and hunger across the globe. With awareness, research, and action, we can truly change the world!
BONUS! Check out this awesome video from Surfrider.Org, with more information about our water troubles and possible solutions!
This post was kindly provided for us by Mike Bowman.