Last Updated on by Cheryl Khan
What is Masculine Bathroom Design?
Masculine bathroom design has become a popular style choice amongst interior designers and bathroom remodeling contractors. It is a style that incorporates dark moody tones, rugged woods, industrial metal accents, textured stone, and aged materials. It embraces modern design aesthetics as well as industrial and rustic, or natural, design. Masculine design for bathroom remodeling projects tends to embrace clean lines and sharp corners, with large flat surfaces, just as in modern design. It can also embrace the combination of stone and wood, which is reminiscent of rustic style bathrooms. Metal piping and fixtures made through Custom Metal Plate Rolling that are popular in industrial design also work great in a masculine design bathroom.
Elements of Masculine Design
Masculine bathroom designed is influenced by rustic, industrial, and modern bathroom design. For men, the bathroom is a place that serves a purpose, and masculine bathrooms embrace this notion by prioritizing function over form. This can create bathrooms that look very simple, but serve their purpose extremely well.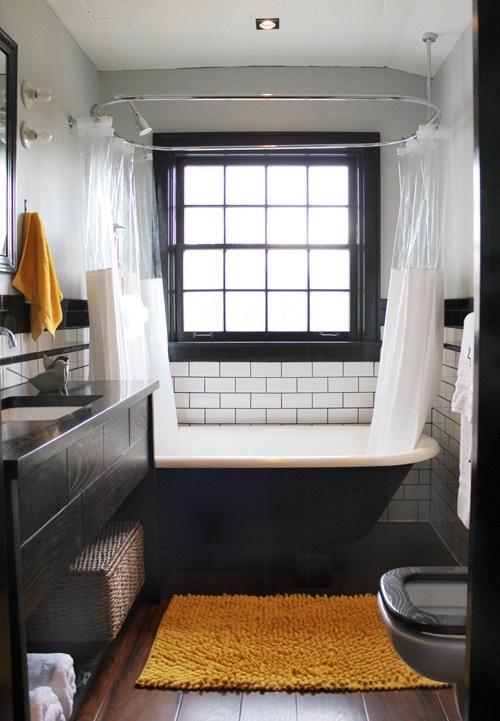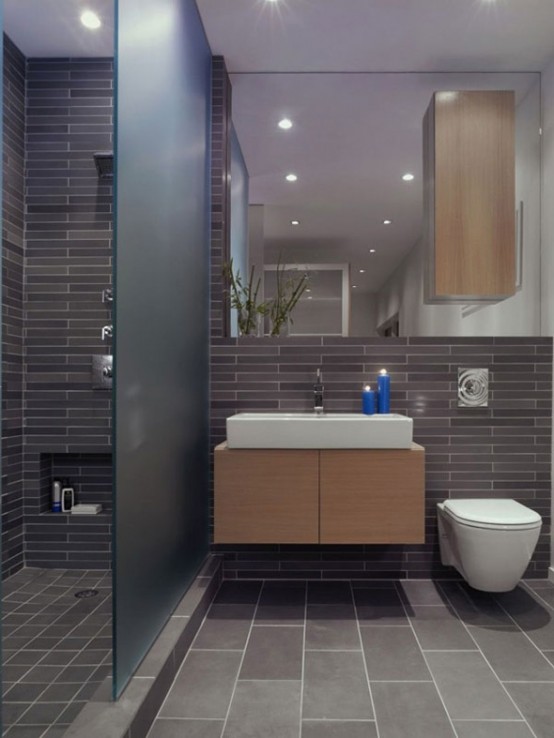 1. Dark Moody Color Tones
One of the first things you will notice about masculine bathrooms is the heavy use of dark colors. Black is a color that is associated with masculine qualities such as seriousness, authority, and power, therefore black is the favored color choice. White can be used, but in conjunction with black to create a sharp contrast, creating a clean and modern look. After black, grey is the most popular color because it is a formal color associated with wisdom and sophistication. Dark tones of blue, green or red can also be incorporated into a masculine bathroom design. Black bathroom vanities make a particularly strong and impressive statement in the modern man's bathroom.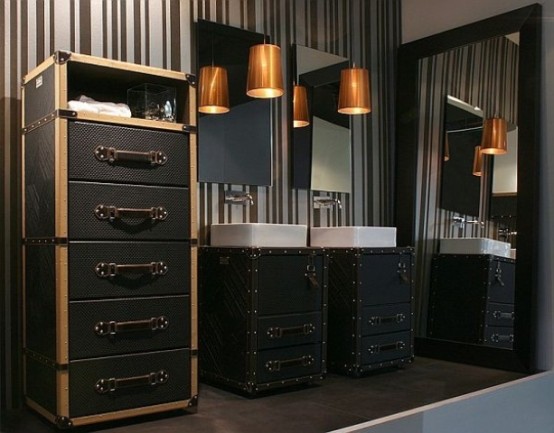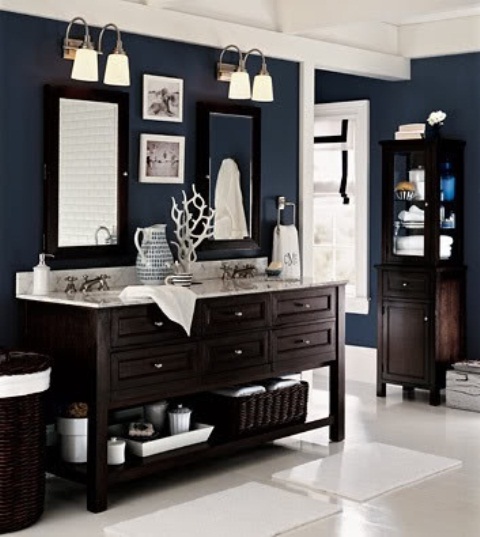 2. Stone & Marble
Materials that imply strength and ruggedness can easily be applied to a masculine bathroom design because of these inherent qualities. Stone and marble tops create a durable and sophisticated look. Stone walls are a great way of adding texture and personality to a stark and plain design. Concrete is a popular material because it creates a hard stable surface but with a soft attractive texture. One of the most appealing traits of concrete is the ability to change color tone when splashed with water, returning to the original color tone once dried. Grey is the second most popular color behind black, therefore concrete is a desirable material. You can even incorporate taxidermy animals if you're someone who loves hunting, shop now on all-taxidermy.com.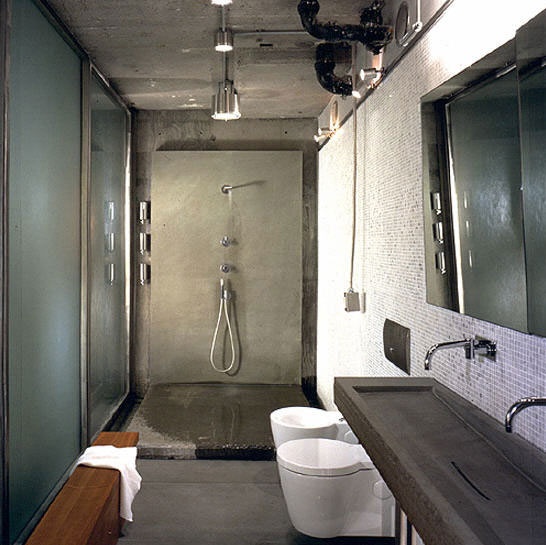 3. Wood Textures
Wood is a popular material choice for masculine bathrooms. Wooden textures are great for creating a rugged environment that is reminiscent of nature and the outdoors. They help create a mature and refined interior that naturally implies masculinity. Woods create a warm aesthetic that is inviting and soothing. While some masculine bathrooms embrace a stark and sanitary look, wooden textures can help add personality to a bathroom design. Wood is most commonly incorporated in bathroom cabinets and wood vanities.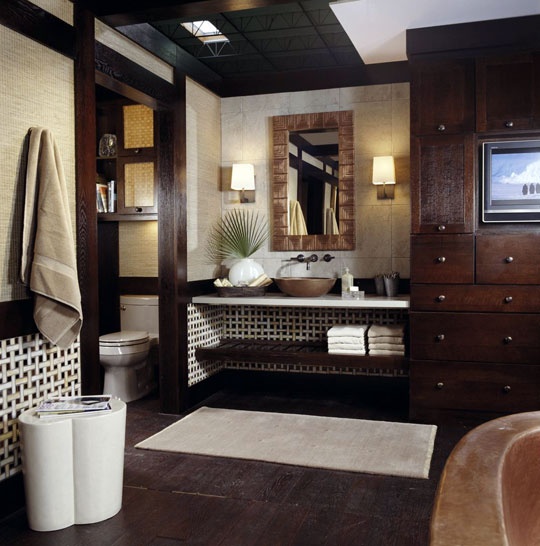 4. Metal Accents & Industrial Design Elements
The use of metal fixtures and accents lends itself very well to a masculine bathroom. Tough and durable materials such as bronze, copper, iron, brass, and stainless steel are reminiscent of the qualities of industrial design. Masculine bathrooms avoid the overly ornate, but metal accents can be used to add an antique quality for even more sophistication. Industrial design elements such as chains, metal pipes, and copper tubing make useful accent pieces. Bathroom faucets are commonly made from metal as are vanity handles, towel racks and warmers, and shower heads.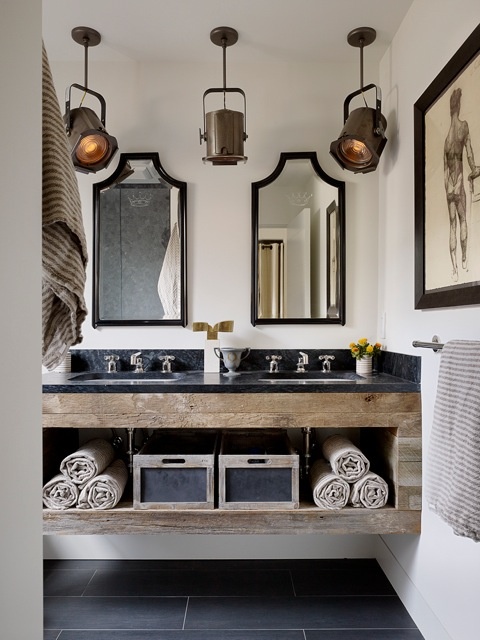 5. Subway Tile
For bathroom walls, subway tiles are a popular choice. Depending on the color of the grout, they can create different looks and color contrasts. The look of subway tile is perfect for a men's bathroom because it is associated with independence and reliability. The sharp lines and clean surface are also reminiscent of modern design features, which masculine design borrows heavily from.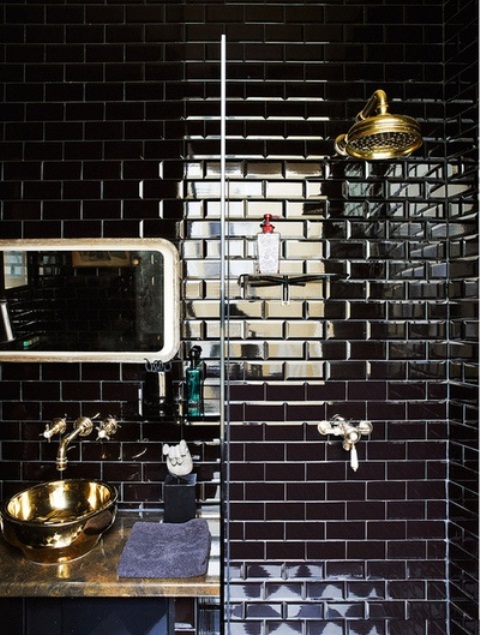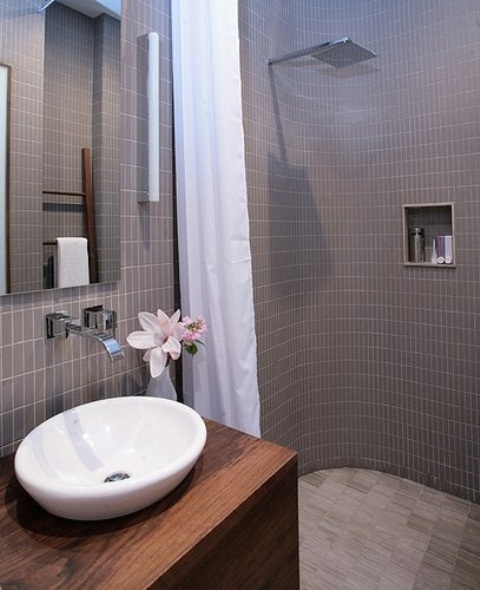 6. Fully Enclosed Shower
Glass is popular in modern bathrooms because it creates a clean and minimalist look that is highly functional in a bathroom. In masculine bathrooms, full glass shower enclosures are used for the same purpose. Instead of curtains which are inherently feminine, glass enclosures are a sleek and stylish way to enclose a shower or bath. Firmly attached delicate glass helps create a look of strength and stability. Large glass enclosures add to the open look of masculine design.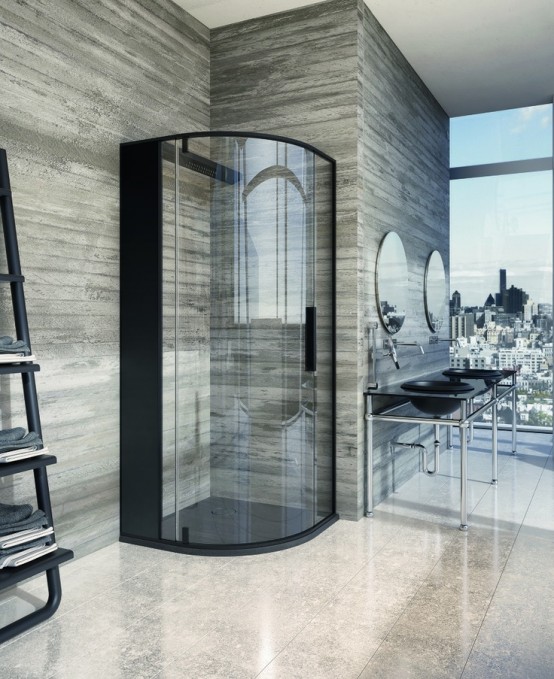 7. Wide Open Space
Functionality being a priority, an abundance of space is a common trait in a male bathroom. Men being naturally larger than women, they require more space to move around and perform basic activities such as getting undressed and drying off. While women tend to prefer cozy bathrooms, men are more partial to wide open spaces that allow freedom of movement.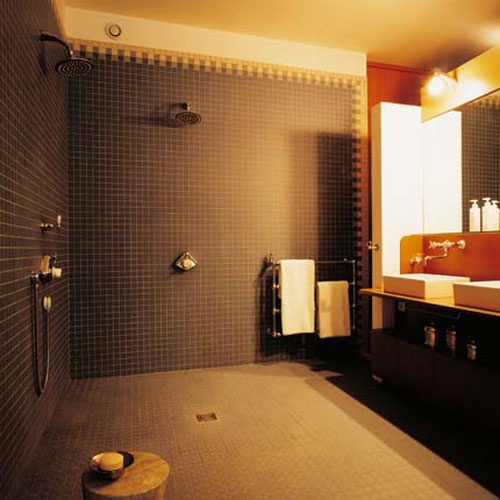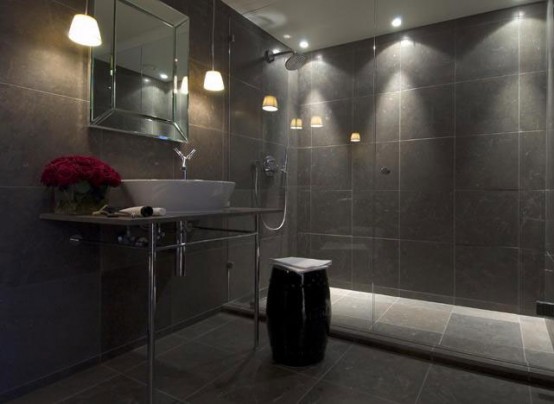 8. Open Shelf Vanities
The most common type of vanity in a masculine bathroom design is the open shelf vanity. Foregoing the decorative appeal of multiple cabinets and drawers, open shelf vanities embrace functionality by being able to quickly and directly access bathroom accessories. Instead of throwing dirty clothes on the ground, open shelves give enough space to place items within reach without having to bend over. A perfect place for bath towels.
9. Floating Vanities
The appeal of floating vanities are their eye catching design, appearing to float in mid air without touching the ground. Since they are mounted to the wall, they create the appearance of being suspended in the air. For masculine bathrooms, a floating vanity adds a sense of mystery and intrigue. Their uber modern appearance makes them look futuristic. Despite their appearance, floating vanities have a stable and strong aesthetic that goes well with a men's bathroom design.
Cappella Modern Hanging Vanity
Abba Wall Mounted Single Vanity
10. A Sense of History
Through antique accents and historical items, some masculine bathrooms can incorporate a sense of history into the design. This can be done many ways. The simplest way is by hanging a frame that references a specific moment or period in time, such as a black and white photo of Samurai in Feudal Japan. Another way is to use vintage accent pieces, such as a vintage shaving kit on the counter top, or even incorporating vintage style vanities or claw foot bathtubs. The use of antique pieces also helps create a sense of historical awareness.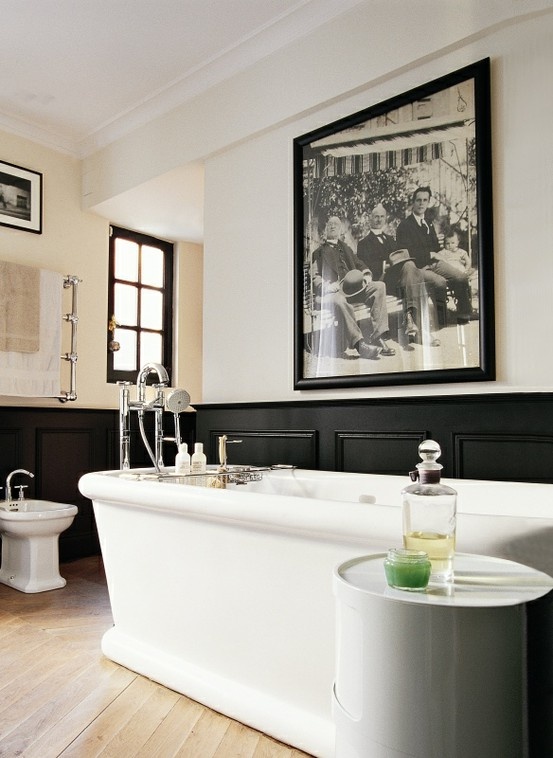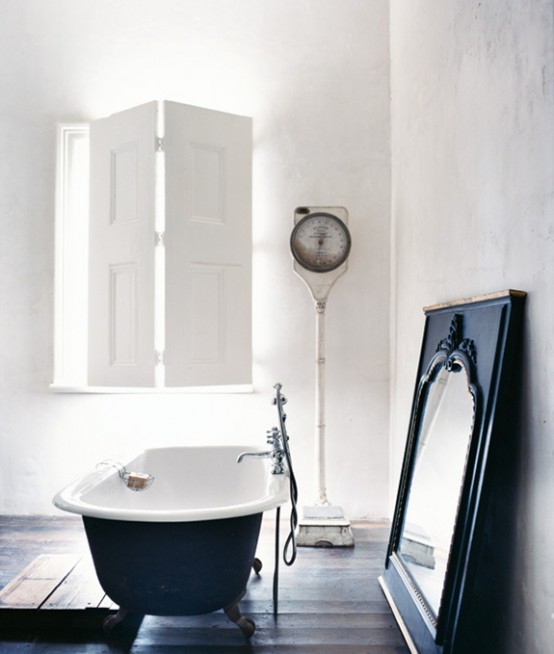 Bathroom design is influenced by individual tastes, style choice, and the overall design of the home. While masculine bathrooms can incorporate any of the elements previously mentioned, the design of them is very cohesive. They would not be described as being eclectic, chic, or random. The design, much like the bathroom itself, is there to serve a purpose and nothing more. Keep this in mind when designing your own bathroom.
At Trade Winds Imports, they offer black and dark colored modern bathroom vanities that are perfect for a masculine bathroom. The Citrus Double Sink Vanity features an integrated counter top and open shelf design with a dark wood finish. One of their most stunning vanities, the Oasis Double Vessel Sink Vanity features a full glass counter top atop a bed of smooth river stones, creating a sleek yet rugged appearance.
Oasis Double Vessel Sink Vanity
About The Author
Cheryl Khan is a regular contributor to the Trade Winds Imports Blog. Her passion for interiors is matched only by her passion for classic films. Follow her on Twitter for the latest news from the world of interior design.
Images via DigsDigs