Last Updated on by admin
Sharing a bathroom with a friend or a significant other often  leads to fighting over who gets to use the sink. Double bathroom vanities may be the solution you have been waiting  for! In the  end, to avoid getting in your partner's way when using the sink, nothing works  better than double bathroom vanities.
No use fighting it: a bathroom is not complete until it showcases  its own elegant bathroom vanity. Of course, these vanities are gorgeous  pieces of decor, but they are also efficient organizers. These vanities provide ample storage space beneath the sink, and double bathroom vanities provide plenty of surface area on the countertop to keep your toiletries and other necessities. With beauty and storage to spare, a double bathroom  vanity will vastly improve your bathroom.
So, what are my options?
Looking online for your next bathroom vanity will yield the most results. There are so many types of vanities, so many options available to you, that you should take your time and take all possible considerations into account. The material of the double bathroom vanity is of the utmost importance, and wood is a classic choice. You will have many choices, including a regal oak, sturdy and gorgeous teak, or elegant mahogany. Wood bathroom vanities are quite ornate and decorative in comparison to metal and glass vanities.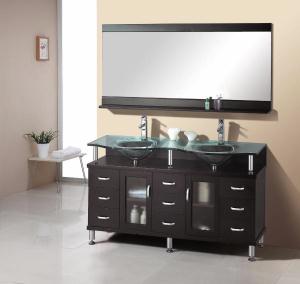 Modern vanities are also available, in metals such as copper or steel. Often, the vessel sink is either metal or glass. The beauty of metal vanities is undeniable, although they are often a bit more complicated to take care of than other kinds of vessel sinks. A metal vanity however, when properly cared for, will undoubtedly last a lifetime.
If you are looking for bathroom mirrors, you will find that the modern varieties generally come without frames. There are a number of options as far as sheet cuts are concerned, including simple rectangular shapes and other, more interesting designs. Oftentimes, you will find modern bathroom vanity mirrors with built in diffused lighting or halogen bulbs. These lights are generally very easy to install, and can be purchased separately from your double bathroom vanities, though it's cheaper to buy them together.
Double bathroom vanities are also quite notable for their affordability. Paying the little extra is well worth it, as you'll enjoy enhanced space, less sink related conflicts with the people you live with, and less stress overall.  Besides, double bathroom vanities are often just as attractive and decorative as single bath vanities, if not more so.
Stainless steel towel rails are often found with double vanities, as well. These rails often serve as trim for the utilitarian and well designed cabinets.  It's the little details like this that truly make the most of double bathroom vanities, and make them the perfect appliance to decorate your bathroom and improve its functionality.
Though many modern vanities can be quite expensive, with a little persistence and research you can surely find a fantastic bargain. Most online retailers offer highly competitive prices, and some will match the prices of their competitors. Shopping online has other perks, as well: many major vanity retailers offer free shipping on bath vanities, so you won't even have to leave the house to get a great deal. It's easy to find double bathroom vanities online at factory direct pricing, and if you're still not satisfied, look into clearance bathroom vanities on these websites or on community sale websites like E-bay or Craigslist.