Last Updated on by Cheryl Khan
With the level of innovation in technology, it is not surprising to see that bathroom tech has grown by leaps and bounds in just a few years. New bathroom technology allows homeowners to turn their bathrooms into an area of uber convenience and luxury. Bathroom gadgets take time consuming tasks and automate them so that you can focus on more important things, such as which brand of soap to use. For owners of a modern design influenced bathroom, these gadgets blend very well in a clean and minimalist bathroom.
Smartphone Controlled Shower & Bath
Everything syncs up with your phone. So why not your shower? The Crosswater Digital Duo syncs up with your smartphone, allowing the user to control their shower settings from within their own home. Imagine waking up in the morning and reaching for your phone to get the shower ready. With an internal memory, the controls remember individual preferences such as temperature and bathtub level.
Medicine Cabinet with TV in Mirror
For people who want to stay connected on the latest news and information, but spend way too much time in the bathroom, this product provides a simple solution. You can even get the best IPTV apps for Apple TV so you can catch up on the latest headlines and sports scores as you get ready for the day.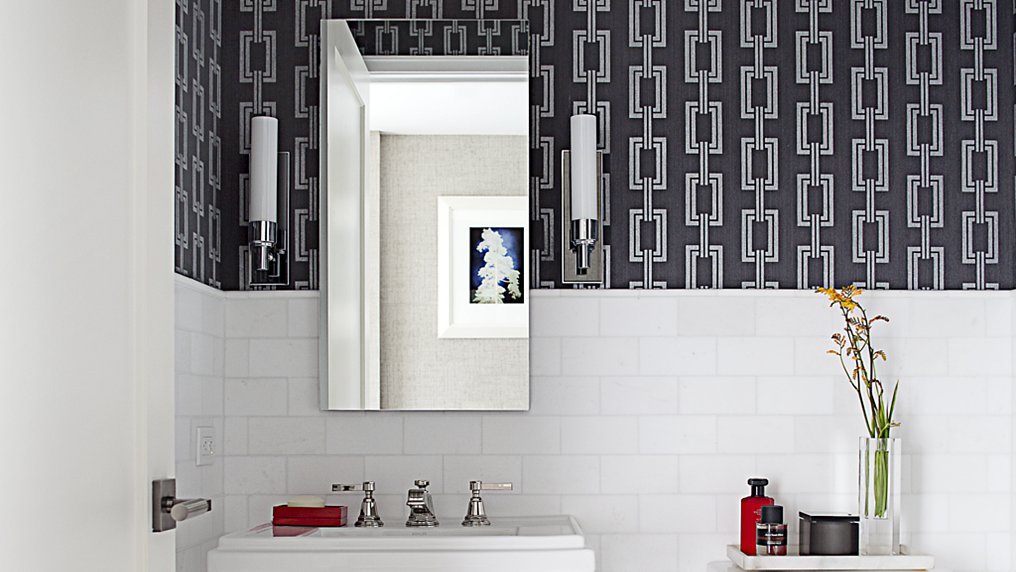 Lena Modern Whirlpool Bathtub
The elegant and eye catching design of the Leno Modern Whirlpool Bathtub is a testament to the modern aesthetic. The sharp lines and minimalist style create a clean look that is perfectly suited for a bathroom. It utilizes a digital LCD control panel to adjust the fifteen whirlpool jets, providing spa quality relaxation with the hydro-massage system. Chromatherapy lighting surrounds you with mood lighting to help you unwind.
Heated Towel Rack
There is nothing quite like the feeling of having a soft warm towel to use after getting out of a bath or shower. It is both luxurious and invigorating at the same time, which is perfect for starting your day. This heated towel rack can be set to specific temperatures and is programmable so it only turns on when you want it to. With a clean and simple design, a Luxury European Sculptural Wall Mounted Towel Warmer Radiator would look great in any modern bathroom.
UV Toothbrush Sanitizer
Sorry to inform you, but your toothbrush harbors more germs than you think. Simply rinsing and air drying a toothbrush every day won't kill all of the germs and bacteria that can easily thrive in a warm and humid environment. The VioLife UV toothbrush sanitizer features UV technology that automatically sanitizes a toothbrush in six minutes. The LED light lets you know when it's working and when it needs new batteries.
Smart Bathroom Scale
Keeping track of your personal health goals can be very hard to manage. Thankfully, smart bathroom scales such as the Smart Body Analyzer help you stay on top of your goals by keeping track of your data over time. This allows you to see progress based on weight, body fat, or body mass index. Through a wifi connection, this smart scale can track and store all your important data on your smartphone, which is accessible to you anytime.
Modern gadgets for the bathroom are a great way of updating an old bathroom. They help make daily life easier for everyone but can also be a part of your modern bathroom design. The ultimate purpose of any gadget is take complicated tasks and turn them into simple and manageable activities.
If you are looking to turn your bathroom into a modern marvel, we offer several bathroom products that incorporate new and efficient technology. The Fortuna White Dual Flush Fountain uses earth-friendly dual flush technology. For a modern shower, the Gratian Premium Steam Shower features a digital control panel, FM radio, and self cleaning function.
The Gratian Premium Steam Shower features a digital control panel and acupressure body jets.
About the Author
Cheryl Khan is a regular contributor to the Trade Winds Imports blog. She is passionate about interior design and the modern design aesthetic. Follow her on Twitter for the latest trends in the industry.