Last Updated on by admin
Great vanities are forever
Maintenance is a  necessary corollary to ownership. So once you've installed your modern bath vanity, be  prepared to start taking care of it.
Vanities in the modern  age
Many  "contemporary" or modern bath vanities are constructed in stainless steel or glass. Because of this  proclivity, you may need to research particular cleaning and care methods for your  vanity. Unless your vanity is a very special or rare case, you'll typically find that a basic cleaning agent that is meant for either material will work just fine. Look for cleaners that are guaranteed not to leave streaks or residue. If you are  interested in making sure that you are going to be able to do a green cleaning, why not  see what a small amount of vinegar will do to get rid of tough stains?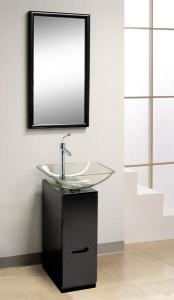 Comfort and  ease at home with modern bath vanities
In the end, the truth is that  modern vanities are far easier to care for than antique or traditional bath vanities. It's easy to scuff up  antique bath vanities, which most often feature materials such as natural wood and  brushed copper. Both of these materials  are a lot more fragile and delicate, and can be harmed a great deal more readily. When you are just working with glass and steel, you will find that the biggest thing that you need to worry about is using a non-abrasive cloth.
Do you  know what it takes to properly maintain your bathroom vanity? With this knowledge, you  should have no problem keeping your bathroom looking fresh and clean. Take some time to consider what your  bathroom needs and how you can provide it.